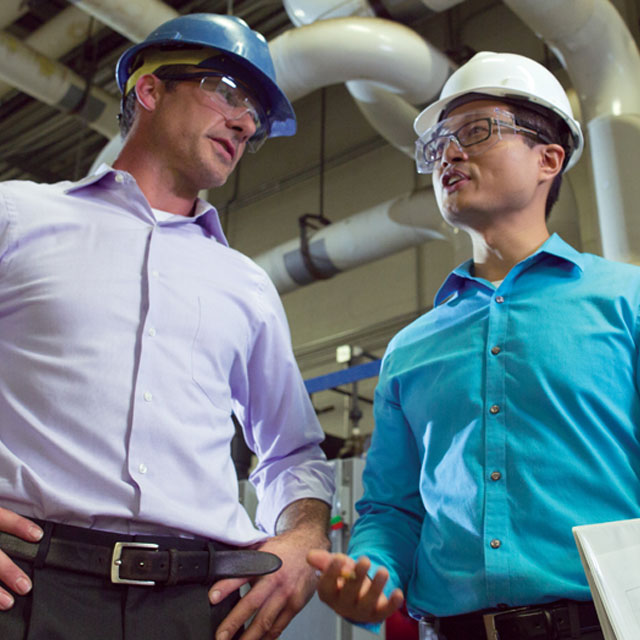 FAQ's
We are known throughout Colorado and Wyoming as Swagelok Denver, Denver Valve and Fitting, and Denver Fluid Systems. Our two branch offices are Swagelok Casper and Swagelok Western Slope
What are your office hours?
We are staffed Monday-Friday: 7:00 a.m. - 5:00 p.m. Our eStore is open 24 Hours. For any out-of-hours emergencies, please call our main office at (303) 232-8844 and follow the instructions for emergency situations.
Our dedicated and reliable on-call team can provide you with:
Emergency order processing

Technical support

Emergency delivery
Can I purchase Swagelok® products online?
Yes, purchasing parts from our eStore is easy and safe. Simply find the parts you need and follow the directions. If you need help getting familiarized with our site please contact us and one of our trained associates will be happy to help you. In emergency situations, please call us at (303) 232-8844 to ensure that you receive your parts when you need them.
Does Swagelok offer different products than what is available on the Web site?
Yes, there are a lot of products available that cannot be found on the Web site. For further assistance please contact us
The quickest way to view our products is on our web site. We do not publish all of our products in a single catalog. Individual catalogs for fittings, valves, hoses, regulators, measurement devices, weld systems, sanitary products, bio-pharmaceutical products, tools & accessories, and many more are offered online. By browsing our products or using the search bar, you can easily locate the catalog to fit your need. For a complete catalog, simply request our Electronic Desktop Reference (eDTR). Printed versions are available upon request.
Do you accept debit and credit cards?
Yes, we accept Visa, MasterCard, Discovery and American Express. Other options available are Cash, Check, C.O.D. or electronic transfer.
How do I open an account with you?
Contact us to have an application form sent to you.
Email, fax, or mail your completed form(s) to:
email | info@denver.swagelok.com
fax | 303.237.4839
Swagelok Denver
9500 W. 49th Ave, Unit D-103
Wheat Ridge, CO 80033
Where do I send Payment?
Please remit all payments for Swagelok Denver, Swagelok Casper, and Swagelok Western Slope to:
Swagelok Denver
9500 W. 49th Ave, Unit D-103
Wheat Ridge, CO 80033
Call us at (303) 232-8844 to pay by credit card.
How can I obtain a copy of an invoice?
You can simply email us at info@denver.swagelok.com or call customer service at 303.232.8844 and we will promptly email or fax a copy of your invoice to you.
What certifications do you offer?
We offer a Certificate of Conformity and a Certificate of Compliance at no extra charge. Heat Traceable and Nuclear Certificates are available at a nominal fee.
What kind of warranty can I expect with Swagelok products?
Swagelok products are backed by the Swagelok Limited Lifetime Warranty. Click here to view the Swagelok Limited Lifetime Warranty
Do you offer other products in addition to Swagelok?
Yes! We offer sourcing service channels, which provide a broad array of products to complement our Swagelok offerings. Offerings include:
Utility Ball Valves

Compressed Gas Fittings

Vacuum Components

Push-on Fittings

Plastic Tubing

Struts

Tubing Trays
We also provide Swagelok Custom Solutions and assembly services.
Can I visit your facilities?
Absolutely! Customers visit us every day to collect orders, place orders, or learn more about our capabilities and products.
Can I purchase Swagelok products online?
Yes. First, (if you haven't already) create an account at http://Denver.Swagelok.com. Select the distributor that coordinates with your location. Then simply select your items, and let http://Denver.Swagelok.com guide you through the ordering process.
Can Swagelok provide a sales drawing of a part that I am interested in?
Yes, sales drawings can be provided. A sales drawing shows basic envelope dimensions.
How do I obtain a CAD template of a Swagelok product?
CAD templates may be obtained on Swagelok.com. Click here for a direct link